Welcome to Baker Place
At Baker Place, our pet-friendly Assisted Living community helps our residents thrive and aid them in their daily routines. We develop individual care plans to meet the needs of each resident, and a full-time care team provides coordination of care.
Our community welcomes pets and offers activities to help residents thrive in mind and body, such as bingo, exercise classes, bible study, ice cream socials, and pet therapy. We also take invigorating walks in our garden and go on shopping trips. Contact us to schedule a tour at Baker Place. Medicaid/Home and Community-Based Services (HCBS) Waiver Program
Ask about our limited availability for Medicaid/Home and Community-Based Services (HCBS) Waiver Program in which seniors can avoid unwanted institutional settings and opt to receive affordable, long-term care in the comfort of our community instead. Let us help you understand Medicaid waivers and how you can make use of them to access community-based services.
APARTMENT FEATURES

COMMUNITY AMENITIES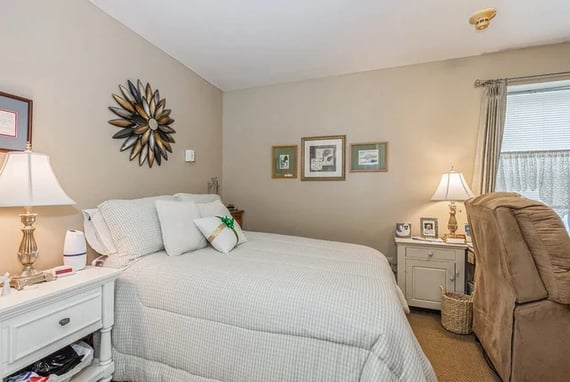 Apartment Features
Our apartments offer privacy and room for personal treasures that you want in a home, and are steps away from amenities, activities and dining.
We also have lovely outdoor spaces for relaxing, socializing and enjoying the fresh air and sunshine.
We Offer:
One Bedroom Apartments
Studio Apartments
At Baker Place, each luxury apartment is specifically designed to offer an abundance of features that provide you with modern conveniences and design details that will make every day living more enjoyable. Some of these unique features include the following:
Services And Amenities to Meet Your Needs:
Comfort and Style
Carpeting

Generous Closet and Storage Space

Heating and Air Conditioning

Window Treatments

Pet Allowed
Convenience
Individual Indoor Mailboxes

Kitchenettes

Refrigerator/Freezer
Transportation
Scheduled Doctors Appointments

Community Events/Outings
For Your Added Safety
Illuminated Apartment Entry Ways

Smoke Detectors

Sprinkler System Throughout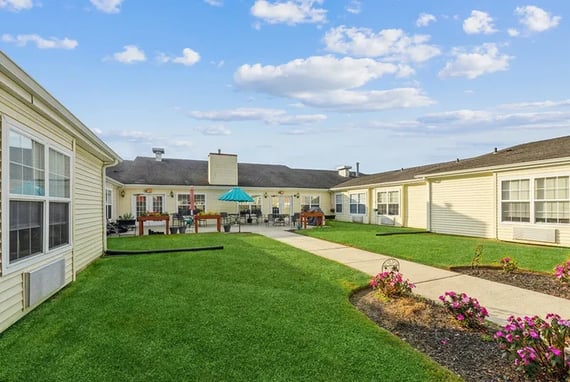 Community Amenities
At Baker Place, we realize that sometimes it is the little things in life that can bring the greatest pleasure. That is why we offer an extensive array of amenities designed to ensure your comfort, convenience and enjoyment. All of these extras are included in your monthly rent, except as noted*.
Services And Amenities to Meet Your Needs:
Activities and Recreation
Community Outings

Social and Recreational Program

Wellness Program

Activity Room

Lounges
Convenience
Apartment Maintenance

Hair Salon

Scheduled Transportation

Weekly Housekeeping Service

Weekly Laundry Service
The Following Amenities are Also Available*
Guest Accommodations Based on Availability

Salon Services
The Vineland Neighborhood I like the residents and the staff. It really makes all of the hard work worth it when you see them happy and eating all of their food.

- James Myers, Baker Place employee
I love the residents like if they where my own grandparents. I love listening to their many stories about when they were young, I get very emotional and close to them.

- Mendi Forte, Baker Place employee
Thank God for Baker Place. I don't know where my wife and I would be without it.

- Walter Cherniak, Baker Place resident
Everyone at Baker Place is very friendly and they always keep me busy with activities. I have very nice neighbors and we walk together in the morning.

- Shirley Ewan, Baker Place resident